Franklin Templeton
In this article, Franklin Templeton discusses what's fueling inflation and how policymakers are combating it without dampening growth. We also share our views on whether inflation will abate or accelerate as the year progresses.
Several sharp pivots
The arrival of the highly infectious Omicron variant of COVID-19 sparked fresh uncertainties about economic growth. As a result of inflation numbers continuing at high levels in the United States, Federal Reserve's (Fed) Chair Jerome Powell indicated there will be quantitative tightening and possibly several interest-rate hikes in 2022. Meanwhile, China's central bank cut a key interest rate for the first time in two years to boost growth. The future path of inflation and the corresponding response of central banks and interest rates are the biggest open questions among our economists. Below, we've summarized several key insights that caught our attention.
Managing expectations
While the Fed and financial markets were still downplaying inflation as transitory, many households and businesses were concerned about how rising prices would impact their future spending power and how unanchored inflation expectations would impact wage-and price-setting decisions. We had assessed that price pressures were broad-based and not solely due to rising fuel and food costs which, coupled with the relatively slow pace of supply-chain normalization, continued extraordinarily loose monetary policy and massive fiscal expansion, would cause an acceleration in inflation in 2021.
Exhibit 1: Current inflation rates vs. central bank target rates
As of December 31, 2021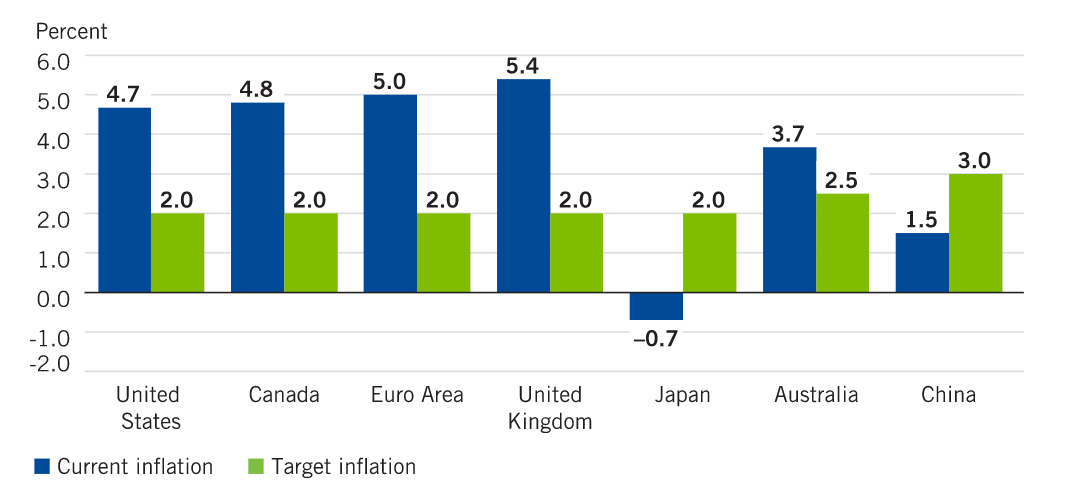 Sources: Fed, Bank of Canada, European Central Bank, Bank of England, Bank of Japan, Reserve Bank of Australia, China National Development and Reform Commission, Statistics Canada, Japanese Statistics Bureau, Ministry of Internal Affairs & Communications (Japan), Bank for International Settlements, Bloomberg, Macrobond. See footnote 1. Important data provider notices and terms available at www.franklintempletondatasources.com.
Going into 2022, several Fed members are talking about quantitative tightening (QT), which means shrinking nearly US$9 trillion balance sheet. Franklin Templeton believes that an aggressive, hawkish approach, rather than gradual incrementalism, may be warranted to stave off longer-term inflation. The Fed is clearly behind the curve and should be more aggressive in fighting inflation.
Supply-chain disruptions and the labor market
From Franklin Templeton's perspective, the supply-chain disruptions driving up commodity prices for items like fuel and food will likely wane later this year as more countries move toward "living with COVID" policies to avoid the damaging cycles of lockdowns. That's good news for Europe, where energy prices have been the primary inflation driver. Far trickier, however, is the issue of wage growth and labor shortages in the United States largely due to three US-specific factors:
Exhibit 2: Percent of US small firms that have raised or will raise compensation
As of December 31, 2021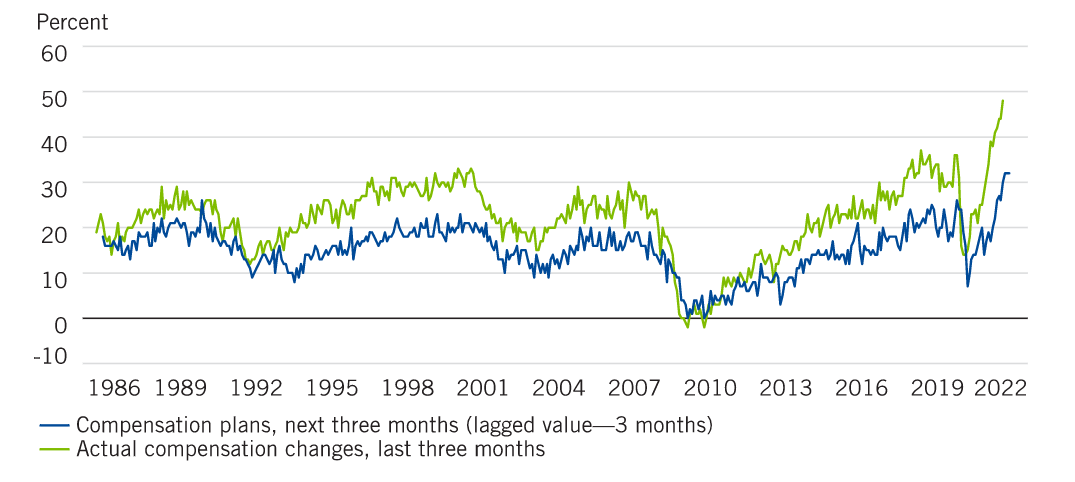 Sources: National Federation of Independent Business, Macrobond. The data is part of the Small Business Survey in the US administered by National Federation of Independent Business. Important data provider notices and terms available at www.franklintempletondatasources.com.
Expensive housing has priced a lot of people out of regional US labor markets—they simply can't afford to live where many companies are hiring.
A big drop in legal and illegal US immigration is causing labor shortages.
An older cohort of workers is opting for earlier retirement, often by moving to lower-cost regions to stretch their savings. If US businesses have the pricing power to pass along wage increases to consumers, it could stoke inflation higher. In turn, this escalation could trigger a bigger policy response from the Fed than is currently expected and could increase the risk of dampening US growth.
China's macro playbook
Looking at the global economy, we think that worries about a hard economic slowdown in China are overstated. In the past, emerging markets often followed the Fed's lead on rate hikes. But throughout this pandemic, China has acted independently in how it has handled COVID-19 and its economy. With China's recent rate cut, we see the start of a gradual reflation cycle that's different from the United States, helping buoy China's massive growth engine. China shut factories before the Winter Olympics to ensure blue skies during the event in Beijing. But after that, the Chinese government likely will deploy its ample policy toolkit to increase economic growth, while being careful to not kickstart inflation.
Exhibit 3: China's Real GDP Growth
As of December 31, 2021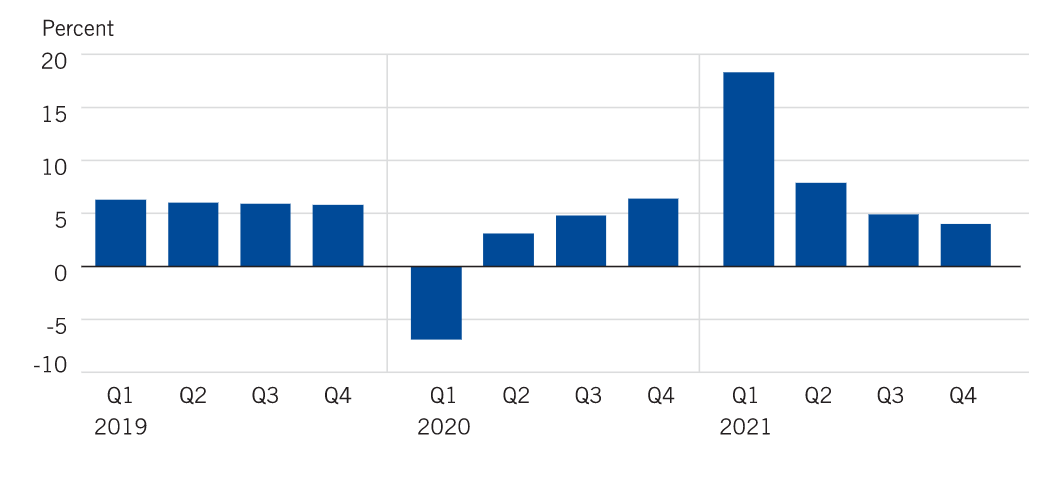 Sources: China National Bureau of Statistics, Macrobond. Important data provider notices and terms available at www.franklintempletondatasources.com.
How to respond
All the macroeconomic issues that we regularly discuss—inflation, supply shocks, wage growth, monetary policies and slowing economic growth—tie back to one catalyst: COVID-19. If we can live with COVID-19 safely, we might get back to the economic growth trends from before the pandemic. This pivot would also support the more rapid normalization of global supply chains, as the risks of shipping delays and labor shortages due to COVID-19 subside.
Given the outlook—for inflation in particular—is uncertain, our investment teams believe that a more bottom-up approach might be a more effective way to achieve returns while managing risk.
1. Source: For Canada and Australia, the target inflation rate in the chart represents the mid-value of the target inflation range. The current inflation rates pertain to: US - Core Personal Consumption Expenditure Inflation; Canada—Total Consumer Price Index; Europe—Monetary Union Index of Consumer Prices, All Items; UK—Consumer Price Index, EU Harmonized; Japan—Core Consumer Prices Index; Australia—Consumer Prices Index; China—Consumer Prices Index.
Important Information
Copyright © 2022. Franklin Templeton. All rights reserved.
Franklin Templeton Investments (Asia) Limited and Legg Mason Asset Management Hong Kong Limited are the issuers of this document. The comments, opinions, and estimates contained herein are based on or derived from publicly available information from sources that Franklin Templeton believes to be reliable. Franklin Templeton does not guarantee their accuracy. This document is for informational purposes only. Any views expressed are the views of respective portfolio management team of Franklin Templeton as of the date published and may differ from other portfolio management team/ investment affiliates or of the firm as a whole. The security provided (if any) is for illustration purpose only and is not necessary indicative of a portfolio's holding at any one time. It is not a recommendation to purchase, sell or hold any particular security. This document is not intended to provide investment advice. Investment involves risks. Where past performance is quoted, such figures are not indicative of future performance.
The underlying assumptions and these views are subject to change without notice. There is no guarantee that any forecasts expressed will be realized. Neither Franklin Templeton, its affiliates nor any officer or employee of Franklin Templeton accepts any liability whatsoever for any direct or indirect consequential loss arising from use of this document or any information, opinion or estimate herein. This document has not been reviewed by the Securities and Futures Commission of Hong Kong.
The information in this document is confidential and proprietary and may not be used other than by the intended user. This document may not be reproduced, distributed or published without prior written permission from Franklin Templeton.
Legg Mason Asset Management Hong Kong Limited is an indirect wholly owned subsidiary of Franklin Resources, Inc.