The latest view reaffirms the expectation for global growth to edge higher this year, even as the coronavirus outbreak has introduced uncertainties. Past epidemics have seen V-shaped economic recoveries – a pattern we expect see this time as well. Yet the depth and width of the "V" are highly uncertain. This outbreak could be more disruptive than past ones because it could be more severe, and because of greater reliance on global supply chains.
BlackRock Growth GPS for developed market economies, 2016-2020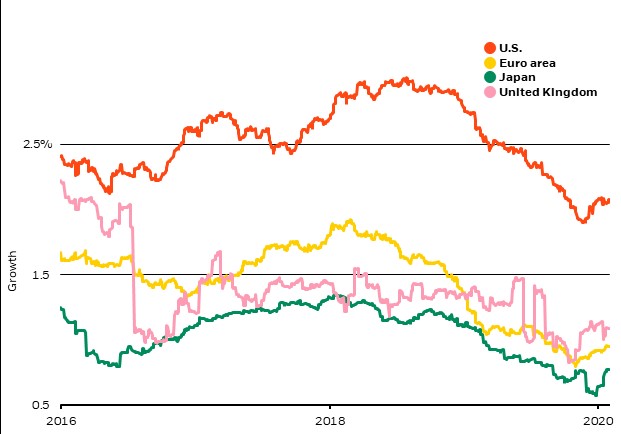 Sources: BlackRock Investment Institute, with data from Consensus Economics, February 2020. Notes: The Growth GPS shows where consensus GDP forecast may stand in three months' time, shifted forward by three months. Forward-looking estimates may not come to pass.
Growth prospects have started to improve in key developed economies since late 2019. Our BlackRock Growth GPS, which aims to give a read of where consensus forecasts of real economic growth may stand in three months' time, has shown an inflection in growth expectations for the U.S., the euro area, Japan and the UK (See the chart above). Growth momentum was also starting to recover in emerging markets (EM) late last year. Yet the coronavirus outbreak has emerged as a principal risk to our global growth outlook. Economic growth and markets have historically responded with a V-shaped pattern to temporary disruptions caused by past epidemics, with the recovery in economic activity often fueled by the pent-up demand in retail and a restart of manufacturing sector. Yet key uncertainties around this outbreak may make history an unreliable guide. It is still too soon to gauge the magnitude and duration of this outbreak as well as its overall impact on the global economy.
The short-term impact from the coronavirus outbreak – thus far mostly stemming from China's containment measures – will likely play out in coming quarters. Based on what we now know, we see it delaying, but not derailing, a growth uptick that should take root this year. China's central bank has already started to ease policy, and we are likely to see more support from Chinese authorities to shore up growth, yet an ongoing desire to rein in financial excesses leaves open the size and shape of the stimulus. Another key development to watch: How extensively will the outbreak spread beyond China?
The coronavirus outbreak may also pose medium-term risks. Potential disruptions to global value chains could drive up prices – and push companies that suffer from such disruptions to build up higher stockpiles and start to rethink prevalent just-in-time inventory management systems. This adds to the potential disruptions to global supply chains from trade protectionism. Over time, such supply shocks could lead to a change in the macro regime. One possibility: Growth slows and inflation rises. This might pressure the negative correlation between stock and bond returns over time, reducing the diversification properties of government bonds.
Investing in Megatrends
Despite all the uncertainties and challenges in the world, investors find themselves embracing investment ideas that are emerging yet is almost certain to happen – this is Megatrends Investing. Megatrends are structural shifts that are longer term in nature and have irreversible consequences for the world around us. The awareness of megatrends in investment processes offers real insights. Because of that, megatrends influence our investment decisions – from the businesses, industries and countries we invest in to the way we go about finding opportunities.
Why FinTech as a Megatrend Investment?
Growth in digital payments is one of the biggest opportunities for the fintech industry. Cash remains the primary means of payment (56% market share among global consumption expenditures, over 67% of transactions are still made in cash within 4 of the 5 largest European countries1) but this is rapidly changing, providing a large opportunity for the digital payments companies – it's estimated that over 1 trillion non-cash payment transactions will take place by 20222, far greater than the 539 billion transactions in 2017. We see three key areas of drivers for the trend to continue:
Millenials and Gen Z reaching prime spending years
Markets are increasingly feeling the influence of the younger generations — for example, last year millenials and Gen Z represented around $350 billion of spending power in the U.S. alone. This trend is only going to speed up: by 2020, Gen Z will account for 40% of global consumers3. Millenials and Gen Z will always be at the forefront of digital payment technology.

Transition to technology-driven solutions
Consumers are demanding the best technology from financial companies. 69% of consumers want their entire financial lifecycle on digital channels4 and 57% of millennials stated they would change their bank for a better tech platform5.

Potential to disrupt large incumbent market
23% of earnings from the MSCI World Index derive from the Financials Sector6, providing a large market for disruption from tech driven companies and new entrants through IPOs.
The projected growth of digital payments is a truly global trend and it's just beginning……56% of global transactions are still made by cash / check which creates a large market for expansion7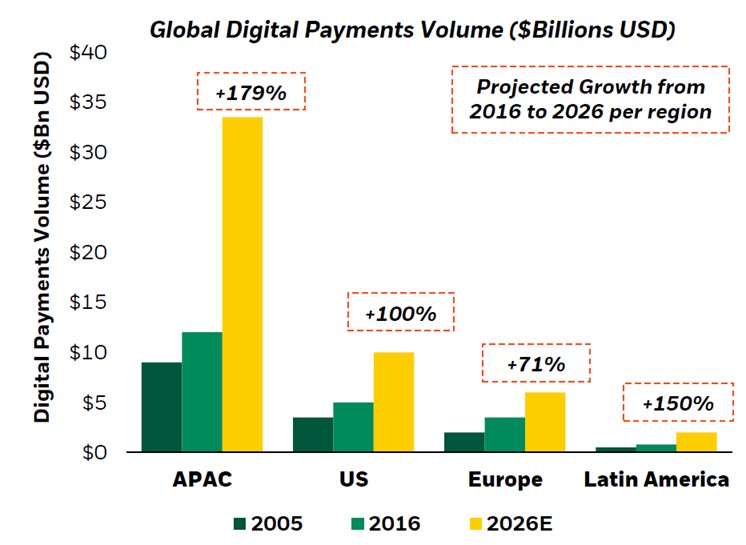 Data Sources:
1 Equity Research, FinTech & Payments primer volume 12. August 18, 2018.
2 Capgemini 2019 World Payments Report Barclays
3 McKinsey & Company, The influence of 'woke' consumers on fashion, February 2019
4 The New Digital Demand in Retail Banking, Oracle Financial Services Global Retail Banking Survey 2018
5 Refinitive Perspectives, June 2018.
6 BlackRock, Factset data as at 31 July 2019.
7 Chart and Stat Source: Nilson Report, KeyBanc Future
This material is provided by BlackRock and is intended solely for informational or educational purposes. This material and the information provided herein must not be relied upon as a forecast, research, investment or financial product advice and is not intended to be (in any manner) a recommendation, offer or solicitation to buy or sell any securities or to adopt any investment strategy. The opinions expressed are as of February 2020 and may change as subsequent conditions vary. The information and opinions contained in this material are derived from proprietary and nonproprietary sources deemed by BlackRock to be reliable, are not necessarily all-inclusive and are not guaranteed as to accuracy. Past performance is not indicative of future performance and is no guide to future returns.
In Hong Kong, this material is issued by BlackRock Asset Management North Asia Limited and has not been reviewed by the Securities and Futures Commission of Hong Kong.
The information provided here is not intended to constitute financial, tax, legal or accounting advice. You should consult your own advisers on such matters. BlackRock does not guarantee the suitability or potential value of any particular investment. Investment involves risk including possible loss of principal. International investing involves risks, including risks related to foreign currency, limited liquidity, less government regulation, and the possibility of substantial volatility due to adverse political, economic or other developments. These risks are often heightened for investments in emerging/developing markets or smaller capital markets.
©2020 BlackRock, Inc. All Rights Reserved. BLACKROCK is a registered trademark of BlackRock, Inc. All other trademarks are those of their respective owners.