BlackRock
Receiving regular income is a primary objective for many investors. In today's environment, finding high levels of income is becoming more challenging. Traditional income sources may not be able to meet investor's needs.
Less than 20% of fixed income assets yield over 4%1
% of fixed income assets yielding over 4%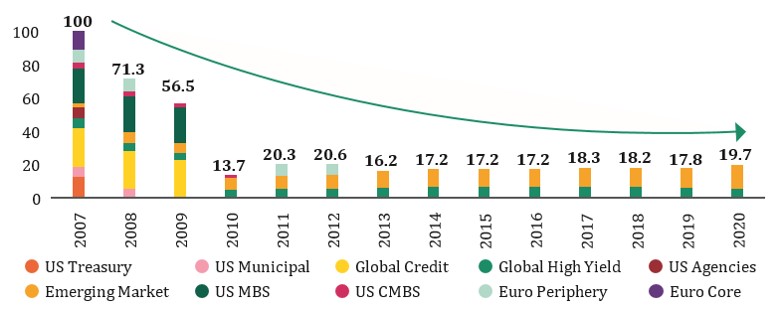 With traditional fixed income yields typically lower than pre-crisis level2, finding attractive income is no longer as easy as it once was.
Yields have moved up in many asset classes but remain low on government bonds2

Moreover, investors have substantially increased their allocations to traditional income producing asset classes. As these spaces become more crowded, investors will need to diversify further to get the yields they seek.
Broaden your income sources
Investing in a flexible portfolio focused on complementary income sources could help obtain consistent, diversified high income and attractive total return.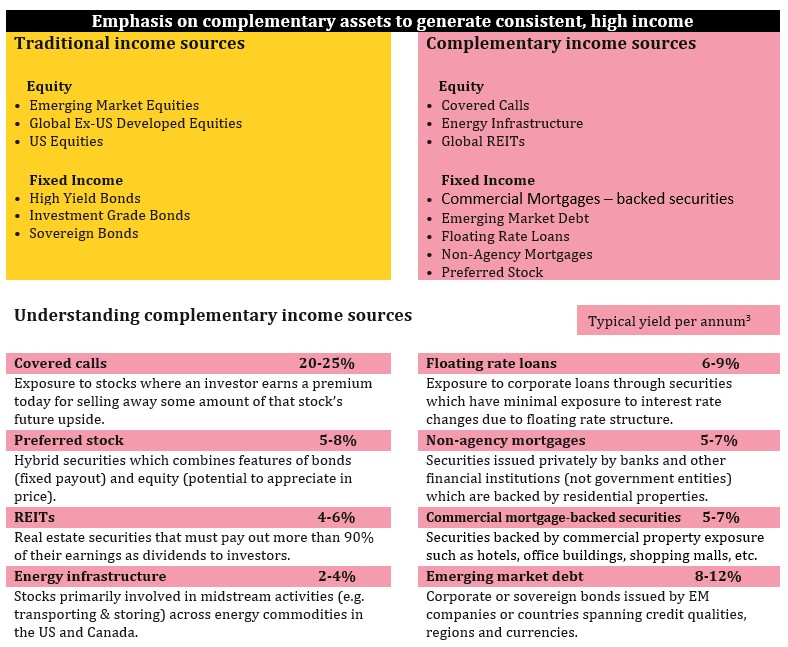 Complementary income sources tend to have low or negative correlation to traditional income sources4. It also has the potential to diversify investment, and difficult for retail investors to access

Flexibility to adapt to changing market conditions
No single asset class can provide income consistently. Against a backdrop of increased market volatility, it is becoming more critical for investors to diversify their income exposures.
1Source: BlackRock Investment Institute, Barclays and Thomson Reuters, December 2020.
2Source: BlackRock, Morningstar and Bloomberg. As of 31/12/2020. Fixed income yields represented by yield-to-worst, equity yields by 12 month dividend yield, Cash: US Dollar 3m Deposit Middle Rate. German Bunds yield: Benchmark 10Y German Bund. US Treasuries: Barclays US Treasury 7-10 Yr. Global Inv Grade Credit: Barclays Global Agg Corporate (USD). High Yield Bonds: US HY Barclays US HY 2% Issuer Cap. Global EM Equities: MSCI Emerging Market. MSCI World Equities: MSCI World. Global Dividend: MSCI World High Div Yield. REITs: FTSE NAREIT All REITs Index. EM Debt: JPM EMBI Global. Preferred Stock: iShares S&P US Pf.Stk. Idx.Fd. Yield for Preferred Stock is trailing 12-month yield of iShares US Preferred Stock Index ETF (PFF). Bank Loans: S&P/LSTA Leveraged Loan Index.
Index returns are for illustrative purposes only. Index performance returns do not reflect any management fees, transaction costs or expenses. Indexes are unmanaged and one cannot invest directly in an index.
3Source: BlackRock, as of December 2020. Past performance is no guarantee of future results. Not a recommendation to buy or sell. For illustrative purposes only. Subject to change. There is no guarantee that the target will be met. Assumptions on which targets were calculated may not materialise.
4Source: BlackRock as at end October 2020. Correlations based on select underlying sleeves within BGF Dynamic High Income Fund using the BlackRock DLY risk model data (252 daily observations with a 40 day half life). Global Bonds refers to Barclays Global Agg (USD Hedged); Global Equity refers to MSCI World. Correlation ranges from +1 (perfect positive correlation) to -1 (perfect negative correlation). Index performance is for illustrative purpose only. Investor cannot invest directly into the index.
IMPORTANT INFORMATION
This material is prepared by BlackRock and is not intended to be relied upon as a forecast, research or investment advice, and is not a recommendation, offer or solicitation to buy or sell any securities or to adopt any investment strategy. The opinions expressed are as of December 2021 and may change as subsequent conditions vary. The information and opinions contained in this material are derived from proprietary and non-proprietary sources deemed by BlackRock to be reliable, are not necessarily all-inclusive and are not guaranteed as to accuracy. As such, no warranty of accuracy or reliability is given and no responsibility arising in any other way for errors and omissions (including responsibility to any person by reason of negligence) is accepted by BlackRock, its officers, employees or agents. This material may contain 'forward looking' information that is not purely historical in nature. Such information may include, among other things, projections and forecasts. There is no guarantee that any forecasts made will come to pass. Reliance upon information in this material is at the sole discretion of the reader. This material is intended for information purposes only and does not constitute investment advice or an offer or solicitation to purchase or sell in any securities, BlackRock funds or any investment strategy nor shall any securities be offered or sold to any person in any jurisdiction in which an offer, solicitation, purchase or sale would be unlawful under the securities laws of such jurisdiction. Investment involves risks. Past performance is not an indication for the future performance.
In Hong Kong, this material is issued by BlackRock Asset Management North Asia Limited and has not been reviewed by the Securities and Futures Commission of Hong Kong.
© 2021 BlackRock, Inc. All Rights Reserved. BLACKROCK is a registered trademark of BlackRock, Inc. or its subsidiaries in the United States and elsewhere. All other trademarks are those of their respective owners.